Sketchbook Brewing has expanded to Skokie and has successfully brewed and packaged several styles!
The new site is located at 4901 W. Main Street, just up the walking path from ISTP.  This represents a major expansion, more than tripling the brewing capacity. The new Tap Room features outdoor seating, a large and inviting bar-area, games and room for events.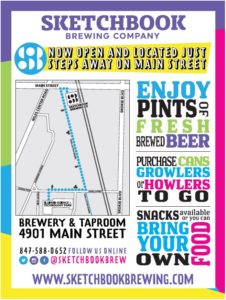 "The Village of Skokie enthusiastically welcomes Sketchbook Brewing Company to the community," said Mayor George Van Dusen. "We have long been impressed by Sketchbook's success in our neighbor to the east, the City of Evanston, and we are grateful that the Sketchbook team decided to invest in Skokie for this exciting expansion of their high-quality, community-forward brewery operations. This announcement marks another significant advancement in redeveloping not only Downtown Skokie, but adjacent areas on Main Street and Skokie Boulevard. We are proud to welcome Sketchbook Brewing Company and its entrepreneurial owners!"
Sketchbook's Shawn Decker says:"Sketchbook's five-year history has been a story of constant and organic growth—and the challenge to produce enough beer to keep our loyal community well-supplied. We have been searching for a suitable building for a while and did not want to go very far from our existing location. We were very lucky to find a great building so close to us and to have the opportunity to partner with the wonderfully diverse and welcoming Village of Skokie.
Click here to learn more about what's happening at Sketchbook Brewing in Skokie.