LanzaTech, the CarbonSmart(TM) recycling company that operates globally, was founded in New Zealand and has headquartered in Skokie since 2014 at ISTP. LanzaTech specializes in 'gas fermentation'—converting industrial waste gases (CO, CO2 and H2) into ethanol and everyday products (including mixing it with gasoline for your car —E10 at the pump). The alcohol has also been turned into Jetfuel and into polyethylene for packaging materials! According to Björn Heijstra (Director, Process Validation): "Diverting CO2 from the atmosphere, turning it into products, capturing the CO2—we like this a lot, great for the Earth!"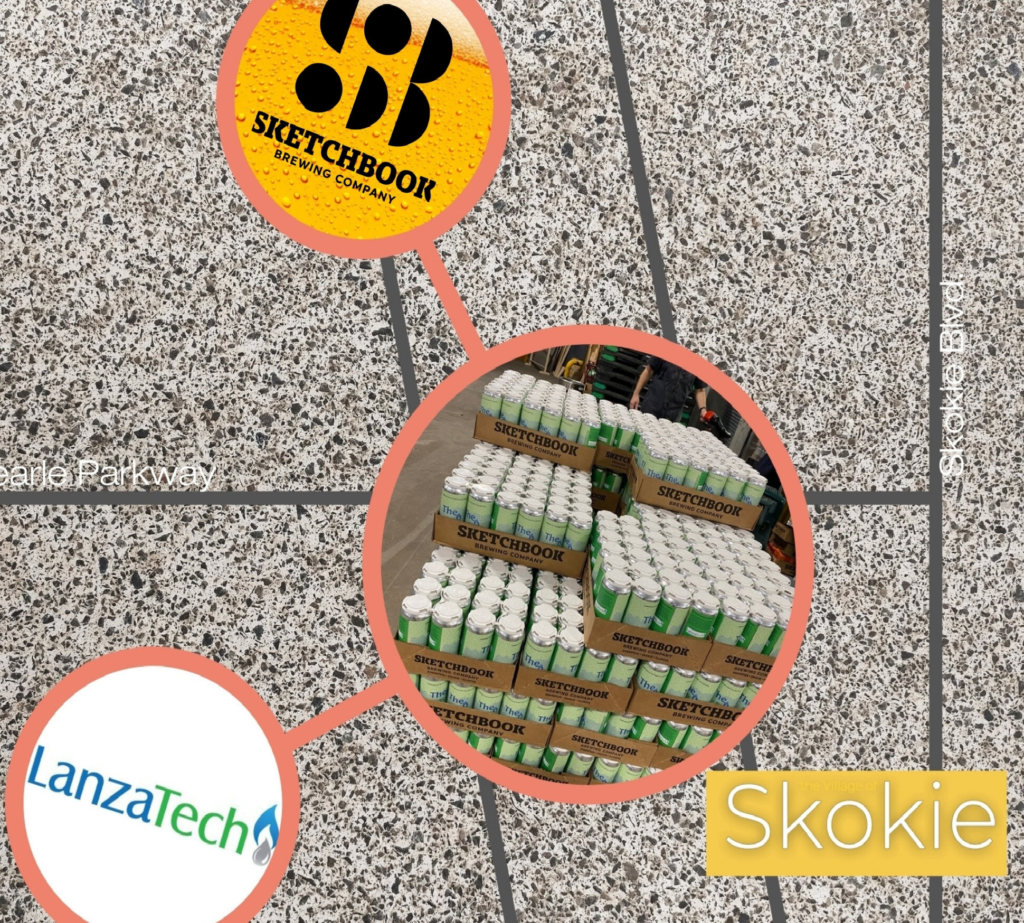 Two blocks north, newer Skokie biz Sketchbook Brewing has been creating delicious beer since 2020 in this new headquarters (they founded their biz in 2014). The brewery process relies upon a quite different fermentation that occurs when yeast, water, grain and heat combine. The LanzaTech team quickly became regulars at Sketchbook's patio this summer and fall…and an idea started brewing.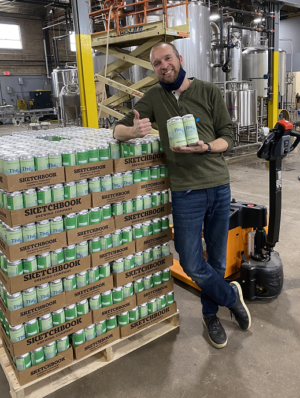 This year, when LanzaTech hit a huge commercial scale milestone, they knocked on Sketchbook's door to see if a celebration beer could be brewed in Skokie. (Most people that do fermentation for a living tend to continue this in their spare time). Sketchbook Brewing Co of course happily obliged and a collaboration brew was initiated. The LanzaTech staff came by and helped on the brew day.
The name? The 150 refers to an incredible 150 days of continuous gas fermentation at commercial scale. LanzaTech incorporated the actual daily production graph into the label design. So cool!
The beer? According to Cesar Marron, Sketchbook's head brewer, "LanzaTech polled their employees to choose a style they would like. Hoppy and Saison were the most picked. So, since New Zealand is where LanzaTech was founded we thought it would make sense to use New Zealand Hops in this batch. The beer is a dry, effervescent saison with a nice spiciness and citrus peel flavor. Great on its own, or paired with your favorite cheese, bread, or any other food really."
To read this entire release, click here.