A surge in life sciences funding has spiked the demand for lab space. While the pandemic and the race for a vaccine certainly accelerated investor interest, it was already ignited by ongoing breakthroughs in immuno-oncology, neonatology and other technological advances. What's more, investment in the sector has translated into commercial real estate leasing in a clear and direct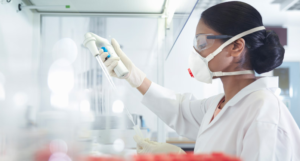 way.
This has impacted leasing. In the major U.S. life sciences markets, total vacancy has decreased by 250 basis points between 2015 and 2020, from 9.8 percent to 7.3 percent. The pandemic is a major driver of the increased government funding. In the U.S., Project Warp Speed sent billions toward COVID-19 research and biomanufacturing with the intent of bringing a vaccine to market.
These transactions bring with them a plethora of life sciences jobs, which can also spur development of housing, retail and other urban amenities that serve the people who live and work in the knowledge center.
"Every time there is a funding round, it's only a matter of months before these companies are looking for new space," says Travis McCready, Executive Director, US Life Sciences Markets, JLL. "When companies get VC money, they need lab space in order to deliver as soon as humanly possible. Life sciences have an outsized impact on development in the surrounding area when compared to other sectors," McCready says. "In a sense, increased investment in life sciences is the tide that lifts all ships" To learn more from JLL, click here.